Free Shipping - Limited Time!
Free Shipping On All Contiguous U.S. Orders - Limited Time!
TECH CENTER - TIRE REPAIRS
A flat tire requires immediate attention. A flat should be replaced with your vehicle's OEM spare wheel/tire right away, until your tire has been inspected for punctures and leaks. If a puncture is found, it should be repaired promptly to prevent any further tearing. Tire patches should be applied carefully, to both the inner and outer parts of the tire. Unless you have the proper equipment and experience, a qualified mechanic should perform these procedures as they require dismounting the damaged tire from the wheel.
Also note that damage to a tire's sidewall is impossible to repair; only damage to the tread area of a tire can be repaired: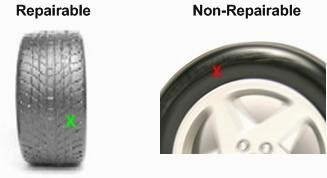 Never drive your vehicle on a flat or punctured tire! Doing so is dangerous and likely to damage your wheels.