Free Shipping - Limited Time!
Free Shipping On All Contiguous U.S. Orders - Limited Time!
TECH CENTER - SHIPPING INFORMATION

* To provide the lowest possible prices, Wheelmax calculates shipping based on your location, rather than charging a flat fee.
** Mounting and Balancing will reduce shipping costs, since wheels and tires ship in the same box.
*** Wheel and Tire Packages that are not mounted & balanced must be shipped in separate boxes, resulting in higher shipping charges.
**** Wheel and Tire Packages (20 and bigger) cannot be shipped mounted and balanced. Wheels and tires must be shipped separately via US Mail.
Please note that international customers are responsible for all applicable taxes/duties/customs fees.

Does Wheel Max ship internationally?
Currently, Wheel Max ships to our customers in the Continental United States. Customers in other countries can have their orders delivered via freight forwarder. For more details, visit our Order Info area.
Please note that customers outside of the U.S. are fully responsible for all applicable customs duties related to their order.

What carriers does Wheelmax use?
For orders within the 48 Contiguous states. Wheel Max uses FedEx ground shipping. See the chart above for more details.

When will my order arrive?
Wheel and Tire Packages may take up to 10-15 business days to arrive. Please review the diagram below to determine your approximate shipping time from our Miami warehouse. Please add 2 -3 business days for packing, mounting and balancing.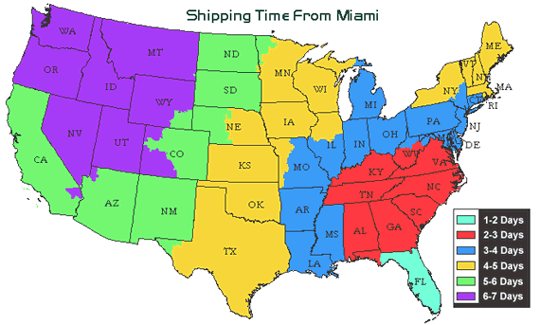 Once your order has shipped, Wheelmax will provide you with an estimated arrival date for your order.