Free Shipping - Limited Time!
Free Shipping On All Contiguous U.S. Orders - Limited Time!
TECH CENTER - SCREWS, BOLTS, AND LUGS
Wheels are held onto the hub of the vehicle using lugs. While every vehicle comes with factory lugs that hold the stock wheels, they probably aren't suitable for holding aftermarket wheels to the vehicle.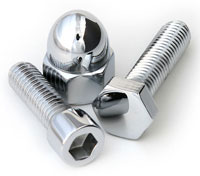 Should you ever lose your lugs or wish to upgrade to theft-preventing contact WheelMax sales at 1-800-545-5745.